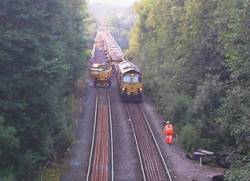 The latest project to upgrade and modernise the railways of Wales and the border counties of England is now underway with a £10.5m investment to improve the railway between Wrexham and Shrewsbury.
Passengers will significantly benefit from a more reliable rail service as Network Rail replaces and upgrades ten miles of life-expired track between Wrexham and Shrewsbury with modern components. This stretch of railway will also be re-aligned to enable a much quieter and smoother ride for passengers, significantly improving their rail experience. As part of this major programme of work, the 165-year old Cefn viaduct will also be strengthened with waterproofing works thus preserving and protecting the grade II listed structure for future generations.
Mark Langman, route managing director, Network Rail Wales said: "This latest investment in the future of the railways across Wales and the border counties of England forms a key part of our modernisation plans to bring the railway across the region into the 21st century. It follows recent works to upgrade the railway and station facilities in across the area, such as Castle Foregate bridge and the River Severn viaduct refurbishments in Shrewsbury, the upgrades to Chester and Prestatyn stations and new lifts at Wrexham General. The next steps in the modernisation programme include our plans to modernise the signalling and control systems between Newport to Shrewsbury and from Fflint to Llandudno, starting in 2015.
"All of these investments will deliver a real improvement to passengers with the potential for quicker and more frequent journeys on a network that is more resilient and reliable. In addition, a robust railway will also help drive economic growth across the country."
The majority of the work has already been carried out overnight and during weekends. The nine-day line closure between Wrexham and Shrewsbury will help drive the scheme forward to earlier completion for the programme. The entire programme of work will be completed by the end of September 2013.