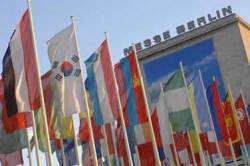 The number of Brits planning to take their car abroad over the next 12 months has increased by a third (33%) in just three years, according to new research from Sainsbury's Bank car insurance. Around 8.5 million Brits (23% of drivers) plan to drive abroad this year yet many could inadvertently break the law if they don't know the rules of the road in the country they are visiting.
In addition to researching and understanding some common road signs or phrases, motorists should be aware that countries have different legal requirements in terms of what a motorist should carry in their car. In France, Croatia, Italy and Norway, for example, it is compulsory to carry a warning triangle however the research reveals that 39% of those planning to drive their car abroad do not intend to carry one; an 11% increase since 2010.
In all European countries, motorists are required to carry their motor vehicle insurance documentation yet the research reveals that almost two fifths (41%) of drivers are not planning to do this. In addition, nearly half (47%) will not take proof of ownership with them in their cars. Half of those surveyed (50%) will not carry GB sticker on their car, yet it is compulsory in several countries, including France, Austria and Switzerland.
The research also reveals that a number of those planning to drive abroad do not plan to carry out basic maintenance checks on their car before setting off. Making sure your car is roadworthy, for example, the tyres are inflated to the correct pressure, oil and water levels are correct or that you have a spare tyre in case of emergency. Just two thirds (60%) of drivers say they intend to ensure their car is roadworthy before setting off and will ensure they have a good level of breakdown cover.
Emily Fleming of Sainsbury's Car Insurance, said: "Our research shows that increasingly, more Brits are planning on taking their cars abroad, so we are encouraging those doing so to be fully aware of the motoring laws specific to the country they are visiting. In many cases, these laws often involve having extra items in the car such as a reflective jacket, first aid kit or headlamp converters for when driving at night which will need to be purchased before setting off."
Sainsbury's Bank car insurance is also reminding those planning to take their car abroad to tell their insurer before they set off, or they could find that they are not covered by their insurance provider as soon as they drive on foreign soil. While most insurers will provide cover for driving in Europe, they also require policyholders to notify them before setting off. Sainsbury's Premier Cover Car Insurance offers free European comprehensive cover extension for up to 90 days a year.