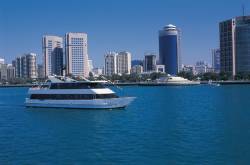 Abu Dhabi Tourism & Culture Authority and TUI have teamed up to stage a month long destination campaign in New Delhi to further bolster Indian visitor numbers to the emirate.
It is the first large-scale consumer facing activation for TCA Abu Dhabi in the republic since opening its dedicated promotions office there early this year and reinforces the two organisations' commitment to the Indian market – the largest overseas catchment for the emirate this year in terms of hotel guests.
Dubbed 'Abu Dhabi Month', the campaign, which runs throughout August in the dedicated TUI flagship store at the Indian capital's hugely popular Select Citywalk Mall, will see a number of marketing and online activations staged, including in-store branding and collateral as well as Abu Dhabi banners on the TUI website and a joint e-marketing campaign.
"With much more to see and do in Abu Dhabi as well as increased air access from the country following Etihad Airways' equity stake in Jet Airways, we expect to see strong growth in the number of Indian guests choosing the emirate as their preferred holiday destination," said Bejan Dinshaw, country manager – India, TCA Abu Dhabi.
"As such, our first major consumer focussed activation couldn't have come at a better time and by harnessing TUI India's extensive knowledge, we are forging a strong partnership to bring compelling packaging opportunities to market."
In the first six months of 2013, some 80,179 Indian nationals stayed in Abu Dhabi's 145 hotels and hotel apartments – a 22 per cent rise on last year.
They accounted for 334,238 guest nights – up 43 per cent on 2012 and stayed an average of 4.17 nights – an increase of 17 per cent.
Sunil Hasija, executive director, TUI India, said robust growth to Abu Dhabi from India was evidence of the emirate's rapidly evolving leisure and business tourism offering, which is being increasingly factored into consumers' travel decisions.
"It gives us immense pleasure to partner with Abu Dhabi Tourism & Culture Authority. We see Abu Dhabi as a destination with tremendous potential for tourism.
"We wish to leverage our relationship with the authority to tap customers and position Abu Dhabi as a vibrant destination in the UAE."