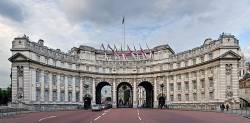 Admiralty Arch in central London looks set to become a hotel after plans for the development of the property were approved by Westminster Planning Committee.
Spanish financer Rafael Serrano Quevedo will lead the project after purchasing the lease to the building – which leads from Trafalgar Square to Buckingham Palace – through his Prime Investors Capital (PIC) vehicle.
The developer will pay £600,000 to the council for social housing and a further £100,000 for "public art".
Building of the arch, a memorial to Queen Victoria, was completed in 1912.
The government agreed to lease it the Grade I listed building for 99 years for £60 million.
PIC plans to transform it into a five star 100-bedroom hotel with ballroom, spa and fine dining restaurant.