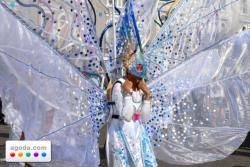 Agoda.com, Asia's leading hotel booking site and part of Nasdaq-listed Priceline Group (Nasdaq:PCLN), is celebrating the arrival of the annual Notting Hill Carnival with budget-saving deals on hotels in London's celebrated Notting Hill neighborhood. This year the celebration takes place on August 25 and 26.
Widely known for its historical architecture, fashionable stores and trendy restaurants, it's sometimes hard to believe that Notting Hill was once known as "the Piggies," due to the high number of pig farms in the area. However, in the mid-1800s it began the slow transformation into a residential neighborhood for the expanding city, and soon became home to a large population of Caribbean immigrants, whose rich culture helped shape its development. The mid- 20th century was not so kind, however, as the area became known for widespread crime and slum conditions, but in the decades since then it has grown and evolved into a chic and upscale residential destination.
The carnival that takes its name from the area began in 1959, when a woman named Claudia Jones organized an indoor celebration as a positive counterweight to recent riots and to encourage community spirit. The party caught on, and was soon being held annually, reflecting the Caribbean culture, art and character that the area is rooted in.
Today, the festival is held on the August bank holiday, considered the unofficial end of summer and the last major holiday before Christmas. Exuberant costumes, world-class musical performances, intricate parade floats and plenty of dancing are on display as over 2 million people stream into the neighborhood to enjoy the festivities over the weekend. There are also plenty of shops, stalls and games set up to ensure that everyone, young or old, has something to see and do.
In its 60-plus years, the Notting Hill Festival has come to be an integral part of London's multicultural identity, and one of the biggest, most colorful festivals the city has to offer.