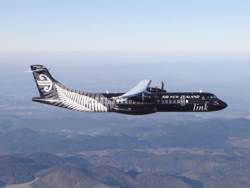 Air New Zealand and Auckland International Airport Limited (AIAL) have signed a partnership to work together to grow Chinese visitor numbers to New Zealand.
The partnership will focus on targeting new geographic areas in China, promoting year-round travel to New Zealand, especially during the low-season, and positioning Auckland Airport as a main gateway for travel from China to New Zealand and the Pacific Islands.
In the year to June 86,000 visitors travelled to New Zealand directly from China. This new partnership aims to boost visitor numbers further in the year ahead and smooth visitor numbers between the high and low seasons. Joint activity includes advertising, consumer road shows, trade training and familiarisation trips in order to develop new products for special interests, corporate customers and families.
Air New Zealand Regional General Manager Asia Sandeep Bahl says China is New Zealand's second largest and fastest growing market both in terms of visitor numbers and expenditure and it's crucial to further grow these numbers in order to support our daily service into Shanghai – one of the airline's main gateways in Asia.
"Partnerships are an integral component of Air New Zealand's strategy in China. Our latest joint venture with AIAL will help us to further grow and develop this key market as we build this market to a daily 300-seat plus service."
AIAL General Manager Aeronautical Commercial Glenn Wedlock says the partnership provides a key opportunity to capitalise on the growth coming from the buoyant China market. "If we can keep the momentum going and inbound visitors coming it'll have huge benefits for not only AIAL and Air New Zealand but for tourism and the wider New Zealand economy."