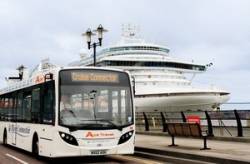 As Liverpool continues to welcome a new fleet of liners to the Cruise Liner Terminal, Albert Dock has partnered with Liverpool ONE, City Central BID, Anglican Cathedral and The Commercial District BID to provide a direct bus link into the city centre for visiting cruise passengers. The Cruise Connector Bus is a privately funded initiative to create a warm Liverpool welcome for cruise passengers to the city and is now in it's fourth year and more popular than ever with visitors.
Cruise passengers are greeted as they board by a group of City Stars – volunteers who welcome the tourists to Liverpool with maps and guides of the city, historical tales of landmarks and recommendations when it comes to the very best of Liverpool's entertainment, leisure and retail offerings.
The purpose of the Cruise Connector Bus is to allow tourists a free and easy bus service in which they can experience the best of the Liverpool Waterfront as well as central retail and entertainment locations. The free bus service leaves the Liverpool Cruise Terminal every 45 minutes arriving first in the Commercial District where people can visit attractions such as St Nicholas Church and the Town Hall before moving on to Liverpool ONE in Lord Street, and then stopping at the Albert Dock before moving along to the Anglican Cathedral. Passengers can be dropped off at the Pier Head on Canada Boulevard to take in the World Heritage Waterfront before being dropped back at the Liverpool Cruise Terminal.
The shuttle service has been developed by the partners to take full advantage of the number of day visitors arriving at the Liverpool Cruise Terminal. The aim of the Cruise Connector Bus is to increase the partners' share of the Liverpool visitor economy, estimated to be over £3bn per year.
Peter Cronin, Director of Development and Marketing at Albert Dock Estate said:
"With Liverpool now the 5th most visited city in the UK, we have so much to offer the tourists who arrive via the Cruise Terminal. The Cruise Connector Bus allows passengers easy access to us here at Albert Dock where they can experience some of Liverpool's most loved cultural attractions including The Beatles Story, Tate Liverpool Merseyside Maritime Museum."
Ged Gibbons, Chief Operating Officer of City Central BID, said: More….
''Cruise passengers are a vital part of our summer economy and a free bus service is a great way to showcase what the city centre has to offer. This bus is also a great example of how our city centre partners work together to further improve Liverpool's reputation as a quality visitor destination.''
Jenny Moran, visitor services manager, Anglican Cathedral added
"The Cruise Connector bus is going from strength to strength, the passengers receive a warm Scouse welcome and are able to be dropped right outside some of our most famous tourism attractions and of course a shopping offer second to none. If they have any specifics such as the need for a chemist or bank the volunteers can give exact directions and we will return to collect them in 45 minutes. They always leave the bus with a smile."
Chris Bliss, estate director of Liverpool ONE added:
"Along with our partners, we want to make sure that cruise passengers receive the warm Liverpool welcome that the city is renowned for. The free shuttle bus means those who wish to hit the shops while they're here can move easily between the ship, the main shopping areas and key visitor attractions. In addition, the City Star volunteers welcome cruise passengers as they arrive to make it as easy as possible for them find their way around and enjoy this fantastic city."