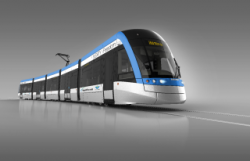 Rail technology leader Bombardier Transportation announced it has signed an agreement with the Regional Municipality of Waterloo to supply 14 BOMBARDIER FLEXITY Freedom light rail vehicles (LRV) for its ION rapid transit service in the cities of Kitchener and Waterloo. The Region of Waterloo is the third North American customer to choose the FLEXITY Freedom LRV platform and brings the total number of this vehicle on order to 400.
The contract is valued at approximately $66 million CAD ($63 million US, 47 million euro). Deliveries are planned in the second half of 2016. Final assembly of the vehicles will take place at Bombardier production facility in Thunder Bay, Ontario. The Regional Municipality of Waterloo can also exercise options for 14 additional light rail vehicles.
"The purchase of light rail vehicles is a significant milestone for our project," said Jim Wideman, Regional Councillor and Chair of the Region of Waterloo's Planning and Works Committee. "The vehicles symbolize the considerable progress being made to bring this new service to residents in Waterloo Region."
"Bombardier commends the Region of Waterloo for this important expansion of public transit in Ontario by offering rail transportation as a solution for increasing mobility, reducing congestion, and benefiting their economy." said Raymond Bachant, President, Bombardier Transportation North America. "We greatly appreciate the confidence the Region of Waterloo has placed in us in choosing Bombardier's proven state of the art light rail technology."
The FLEXITY Freedom LRV is the next generation of the highly successful FLEXITY modular light rail platform. It combines proven elements and innovations, making it a perfect fit for future developments in urban transport. Agile enough for urban roadways and fast enough to connect a city to its suburbs, the FLEXITY Freedom allows modern cities to move faster and better. It saves energy, emits no CO2, and reduces visual and noise pollution.
The five-module, 100% low-floor vehicles are 30.2 meters long and 2.65 meters wide. These vehicles provide reliable performance along with a wide range of features, including car capacity for more than 280 passengers with a comfortable interior, energy-efficient heating and air conditioning. It has enhanced accessibility and safety features with locations for wheelchairs and strollers and a regenerative braking system that feeds power back into the network.
More than 3,500 trams and light rail vehicles are in service or on order around the world. Bombardier's FLEXITY low-floor vehicles meet the individual needs of numerous cities including Toronto, Geneva, Zurich, Innsbruck, Brussels, Marseille, Valencia and Palermo as well as in the Rhine-Neckar Region, Berlin, Augsburg and Krefeld.
Every day, close to 1.5 million Ontarians rely on Bombardier rail vehicles to make their daily commute on the Toronto Subway and Streetcar systems, either on the Ottawa O-Train light rail system, or on GO Transit's commuter rail network. Bombardier is more than delighted to see that the Region of Waterloo will be adding to these figures.
With more than 6,000 employees in Ontario, Bombardier has been investing for twenty years in the continued evolution of mobility, making sustainable transportation always more efficient for travellers.