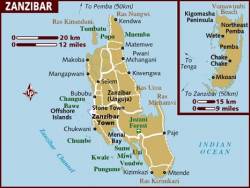 Two British females have been attacked on the east African island of Zanzibar, according to reports.
The 18-year-old women, who are believed to be charity workers, had acid thrown on their faces, chests and hands as they walked in Stone Town, the centre of the capital of the island.
Two men on mopeds are thought to be responsible for the attack, which is the first of its kind against foreigners in the popular tourist destination.
The women are being treated in hospital for their injuries, which are not thought to be life threatening.
The Foreign Office said it was "aware of an incident" and was "providing consular assistance".