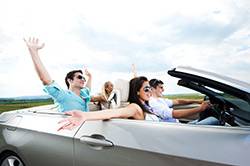 USA-based online car rental service provider, Car Rental 8, today unveiled two new company websites at www.CarRental8.com and www.cr8corp.com.
"Car Rental 8 has been fortunate enough to experience explosive growth over the past 5 years and remains committed to continued growth and excellence in customer service," explains Yves Boyer, Owner and President, Car Rental 8. "Our two new websites better reflect who we've become since our humble beginnings in Florida; they provide customers with more valuable travel resources, and partners and suppliers with more insight into our Company culture."
Today, Car Rental 8 offers car rental services in 125 countries and 17,000 locations around the world. Through car rental supply agreements with major car rental companies and the Company's ability to negotiate discount prices through booking volumes, Car Rental 8 is quickly becoming the price leader in online travel services including hotels.
Because of new supplier contracts gained in the past year, and additional discounts available to customers, the customer booking website at www.CarRental8.com has been updated and re-introduced alongside Car Rental 8's new tagline "Same Car. Less Money." The new booking website offers an advanced user-friendly design, improved performance, worldwide access and even better pricing.
The Company's new corporate site at www.cr8corp.com has been introduced to maximize long term stakeholder value, ensure a balanced portfolio of growth initiatives and further endorse the Company's reputation of having an unmatched quality of customer service.
Boyer added, "The new corporate site will help support our Company's overall business goals moving forward. It is through valued partnerships with suppliers and vendors that we have been able to expand our company's presence into countless cities around the world."