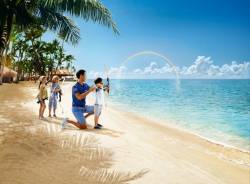 Club Med, the world's leading premium all-inclusive company with more than 70 resorts worldwide+ unveils enhanced amenities at its Dominican Republic property, Club Med Punta Cana. Additions allow the brand to continue enriching the guest experience, from its innovative Mini Club Med educational child programming and refurbished conference center, to the latest sport equipment and facilities. The resort also includes enhanced lounge and dining experiences and a new shuttle service for all guests – making it fun and easy for families with children of all ages to get around.
Leveraging nearly 50 years of experience in educational childcare programs, the transformation of Club Med Punta Cana introduces a new Mini Club Med designed to improve the creative and cognitive skills of children ages 4 – 10. The Mini Club Med expansion now features three themed rooms, the Music Academy, Art Studio and Game Factory.
Club Med is helping children develop communication skills through Nintendo 3D, Just Dance and Wii video games, which foster healthy competition and team spirit. Children develop their creative expression in the Art Studio while the Music Academy provides a theatrical stage for performances with a Dominican-inspired instrument space and musical expression area. In addition to Club Med's newly enriched children's programs, the facilities feature a spacious water park, enhanced baby gym and an array of sports classes to encourage physical activity and sportsmanship among the little ones.
For families desiring an action-packed vacation, Club Med offers a variety of activities with expert instruction including windsurfing, sailing, archery, flying trapeze, fitness classes, and tennis, with 14 refreshed courts to choose from. As a response to the golf boom in Punta Cana – the hottest golf destination in the Caribbean – Club Med has partnered with the Tom Fazio-designed Corales Golf Club and P.B. Dye-designed La Cana Golf courses*. Considered among the top 20 international golf courses, Corales features an exclusive 18-hole course with six oceanfront holes while La Cana boasts a 27-hole course consisting of three nines, including 14 holes with spectacular Caribbean Sea views.
Nestled along 2,000 feet of coconut palm tree-lined beaches, Club Med Punta Cana overlooks the perfectly clear blue waters of the easternmost tip of the Dominican Republic. A haven for families, the resort features multiple pools including a sprawling lagoon pool and children's splash park, three diverse gourmet dining including the newly transformed Celeste snack bar which is now a full-service beachfront restaurant, endless sports activities and the first and only L'Occitane®-branded Spa* in the Caribbean. For guests looking for that extra touch of luxury, Tiara Luxury Space – a boutique hotel within the resort – offers multiple bedroom suite accommodations, exclusive concierge service, a private pool and secluded Pearl Bar which hosts special cocktail hours. With a range of choices for vacationers to personalise their vacation, Club Med continues to spread "happiness" around the world – a philosophy that's been in the brand's DNA for more than 60 years.