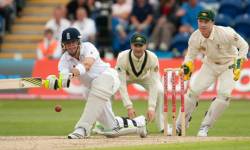 East Midlands Trains and Trent Bridge have joined forces to welcome supporters to Nottingham throughout next week's Investec Ashes Test.
As the city gears up to welcome 85,000 supporters over the five days of the match, Nottingham station is getting ready to host a whole range of musicians and bands to entertain supporters as they arrive at the station.
A mixture of samba drummers, acoustic guitarists, singers and even a gospel choir will be playing on platform 6 at Nottingham station throughout the duration of the Investec Ashes Test (10 to 14 July).
In addition, volunteers from Trent Bridge will be at Nottingham station to help direct passengers to the cricket ground. They will work side-by-side with East Midlands Trains' staff to help make sure visitors can easily find their way to the cricket ground. Rail staff will be sporting Ashes legacy caps along with their normal uniforms to show their support for this major Nottingham event.
Special signage directing passengers to Trent Bridge will also be on display at the station.
Darren Field-Thomas, Station Manager for East Midlands Trains at Nottingham, said: "This is hugely exciting for Nottingham and we want to put on a great show for all the supporters arriving at the station.
"We are the only city outside of London to be hosting Ashes Test matches in both 2013 and 2015, and it's really important that everybody goes away with a positive impression of our city and remembers the warm welcome they got when arriving at the station.
"We would like to thank all the bands who have volunteered to play at the station, who we're certain will put a smile on peoples face as they get ready for a day of world-class cricket.
"We're also looking forward to welcoming all the volunteers from Trent Bridge, who will work alongside our team at Nottingham to help make sure passengers can easily find their way to the cricket ground."
Representatives from Trent Bridge have worked alongside key partners to lay on a co-ordinated welcome for cricket supporters descending on Nottingham.
"The support we have received from East Midlands Trains at Nottingham station has been fantastic and it is a credit to the city that they have embraced our plans to ensure that every supporter feels welcome from the second they step on to the platform," said Michael Temple, Head of Marketing and Communications at Trent Bridge.
"Staging the first Investec Ashes Test of 2013 in Nottinghamshire is a major coup for our county and the unity that has been showing between Trent Bridge and partner organisations was a major factor in the success of our bid.
"We hope that ticket holders, armchair supporters and Nottinghamshire residents can all share in the occasion."