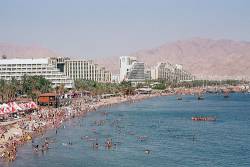 Eilat airport has reopened and resumed flights after briefly closing over security concerns.
The Israeli military ordered the cancellation of all flight departures and arrivals due to security assessments, according to reports.
Flights were diverted to Uvda, 60km (36 miles) away, according to Reuters news.
Located on the border with Sinai, the Red Sea destination in Southern Israel has previously been a target for rockets fired by Islamist militants in the neighbouring regions.
The city's beaches, coral reef, nightlife and desert landscapes make it a popular destination for domestic and international tourism.