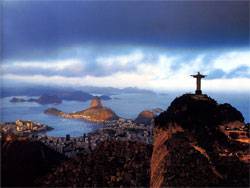 A new study by Embratur estimates that spending by international and domestic visitors to Brazil during the 30 days of the FIFA World Cup in 2014 will reach 25.2 billion Brazilian reais.
As a result of the study the Brazilian Tourist Board argues investment in the super event will be recouped by the Brazilian economy.
The news comes as tickets for the event go on sale.
Around 3.3 million tickets will be available for the tournament.
Tickets will range in price from £58 for first-round matches to £632 for the final at Maracana Stadium in Rio de Janeiro.
Based on the average tourist spend at large events in Brazil, as well as spending by tourists during the last World Cup in 2010, Embratur economists estimate that domestic Brazilian tourists will spend a total of 18.35 billion, while international visitors will spend 6.85 billion reais.
The revenue is expected to exceed the public investment, estimated at 22.5 billion reais, gone into preparing the country for the tournament which is being hosted in 12 cities around Brazil.
This includes investment made at a federal, state and municipal level, as well as loans from federal banks.
Embratur president Flávio Dino said: "It is important to point out that this figure relates specifically to direct spend by domestic and international tourists to Brazil for the 2014 FIFA World Cup.
"The total revenue injected into the economy by tourism will be much greater as it will include the indirect impact on the whole supply chain; for example, restaurants will require more food from grocers, street vendors will need more supplies and hotel managers will order more drinks from distributors.
"This money goes straight into the pockets of the different sectors of the Brazilian economy."
Hotel Prices
However, Embratur has also raised concerns with FIFA and hotel operators that sky high hotel prices may damage the reputation of Brazil as a tourism destination.
The tourist board has said hotels featured by the FIFA-appointed agency Match have rates up to five times higher during the tournament.
Embratur has said Match should change its policy of blocking hotel rooms and also called upon the agency to reduce its mark-up rates.
"We propose that the companies involved conduct new rounds of negotiations to lead to a restructuring of the prices,"' the board was quoted as saying in a document by the Associated Press news agency.