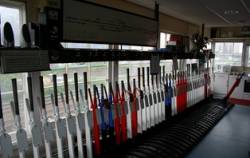 Twenty six of England's rarest and best preserved signal boxes have been given Grade II listed status by the Department for Culture Media and Sport as a result of a joint English Heritage and Network Rail project to safeguard the nation's railway signalling heritage.
The listings come as Network Rail decommissions many mechanical signal boxes to consolidate signalling into 12 regional centres, as part of a 30 year plan to modernise the system and provide a better value railway for Britain.
Heritage Minister, Ed Vaizey said: "Our interest in everything to do with trains and railways – and the 'golden age' of steam in particular – is one of our most endearing and enduring national preoccupations. Signal boxes are a big part of this, and so I am very pleased indeed to be able to list these lovely examples of the type. It is greatly to Network Rail's credit that they have worked so constructively with English Heritage to bring this project to such a successful outcome."
Installed from the mid-19th century onwards, signal boxes numbered around 10,000 at the peak of their use in the 1940s. Today fewer than 500 are still in use by Network Rail. They were built in highly visible spots at stations or level crossings to an infinite variety of designs, sometimes with beautiful detailing and embellishment far beyond what is needed for their practical function. They were constructed both by specialist contractors like Saxby & Farmer and individual railway companies, each developing their own distinctive style.
English Heritage has worked in close partnership with Network Rail to identify and protect a representative sample of the most significant designs, especially those within groups of historic railway buildings, capturing a snapshot of the Victorian heyday of railways for future generations.
Local landmarks
From Cornwall to Kent and Sussex to North Yorkshire, the newly listed signal boxes date from the 1870s to the 1920s, many still retain their original operating equipment and have become much loved local landmarks. The box designs range from imposing structures, like the enormous Saxby & Farmer designed box at Eastbourne, to simple single-storey timber buildings, like the diminutive Stevens & Sons box at Grain Crossing in Medway, Kent, the last survivor of a once numerous design.
In the North of England, Hebden Bridge Signal Box built in 1891, one of only a handful of Lancashire and Yorkshire Railway boxes to survive in anything like original condition, has a time warp quality, where both it and nearby listed station buildings still retain their original 1914 signage.
The East of England boasts well preserved boxes built for the Great Eastern Railway like the one at Downham Market, which complements one of the most attractive small stations in East Anglia, and the wonderfully elaborate example at Brundall which was built in 1883 and unusually is built of wood blocks cut to resemble stone.
At Totnes in Devon, the large signal box, built to the Great Western Railway's standard design used between 1896 and the 1920s, has what are in effect a series of bay windows to give the signalman a clear view down the line and striking contrasting blue brickwork. With the removal of the original operating equipment, the building has now found a new use as a café. Totnes shows that, although there can be issues with access and location, decommissioned signal boxes can sometimes be rejuvenated. They have been reused as cafes, museums or holiday lets and, in some cases, moved to new locations, often on heritage railways.
John Minnis, Senior Investigator at English Heritage said: "We are delighted to be working in partnership with Network Rail as part of our National Heritage Protection Plan to seek out the best examples of historic signal boxes up and down the country. These are very special buildings, at one time a familiar sight on our railway system. Today's listings will ensure that many of these highly distinctive designs, which were full of character, are protected for years to come providing a window into how railways were operated in the past."
Jerry Swift, Network Rail's head of community rail, said: "Our operating strategy would see a marked acceleration in the number of signal boxes decommissioned each year, so it is vital that we have plans in place to deal with that sensitively and sustainably.
"Identifying the most significant signal boxes so that they are safeguarded for future generations is something we are all committed to. It is important that they have a life after the national railway network has finished with them and we are working with a number of heritage organisations to try to find suitable homes for them for the future. It is great news that these newly listed boxes will survive as examples of our railway's colourful past as we modernise the network for the twenty-first century."