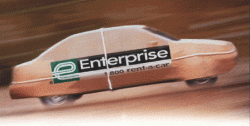 As part of its ongoing European expansion strategy, Enterprise Rent-A-Car has selected new franchise partners in Poland and the Czech Republic, providing greater choice and mobility to customers across all major airport and city locations in these two European markets.
These agreements consolidate the company's footprint in Central and Eastern Europe, further increasing access for customers.
HT Centrum Group has been appointed as the franchise partner in Poland.
As one of Poland's most respected automotive groups, it brings over 15 years' experience in the automotive sector in Eastern Europe through its dealerships and service centre operations, as well as car rental provision.
Czechocar Ltd is the selected franchise partner in the Czech Republic.
Founded in 1993 during the country's transition to a market economy, Czechocar has established itself as a leader in the Czech car rental market.
Both companies have been carefully chosen for their operational excellence and strong commitment to customer service, ensuring that the culture and values of Enterprise's growing franchise network remain aligned with the company's founding values.
Enterprise's growth strategy is aimed at increasing choice, value and service to travellers journeying internationally and within Europe through sustainable, long-term relationships with respected local businesses, and in particular to existing Enterprise customers who value the company's customer focused ethic.
Peter Smith, vice president of global franchising at Enterprise, said: "These agreements further cement the Enterprise Rent-A-Car brand in Europe and place us in almost every large business and leisure travel market in Europe.
"This opens the door to a large volume of opportunities for our customers, our employees and our new franchise partners.
"Once again, in HT Centrum and Czechocar we have identified entrepreneurial businesses that share both our commitment to customer service and a vision to embrace the mobility needs of European travellers.
"We're delighted to welcome both companies and countries into the Enterprise family."