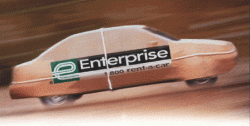 Enterprise Holdings has announced that Nate Lattimer will take up the role of vice president of remarketing sales and operations for the Enterprise Rent-A-Car, National Car Rental and Alamo Rent A Car brands.
Lattimer will also take on the position for the Enterprise Commercial Trucks business and Enterprise Fleet Management affiliate.
Combined, these businesses accounted for $15.4 billion in revenue and operated 1.3 million vehicles throughout the world in fiscal 2012.
In his new role, Lattimer is responsible for vehicle remarketing for all North American operations in addition to overseeing more than 400 local account representatives.
He succeeds Mike Bystrom, who was promoted to a senior executive position within the company.
Lattimer began his career with Enterprise as a management trainee in 1996 and was later promoted into management positions in Memphis, TN and Louisville, KY.
After moving to the company's corporate offices in 2008 as corporate fleet manager for the West Coast, he was promoted to assistant vice president, fleet, West Coast, in 2011.
"When Nate joined the corporate team, he quickly became a key player and consistent top performer, thanks to his ability to listen, react and lead," said Kurt Kohler, senior vice president of fleet acquisition and remarketing, Enterprise Holdings.
Lattimer has achieved a number of successes during his Enterprise career, including overseeing the integration of fleet strategy and remarketing for the company's West Coast operations.
As a result of those efforts, the West Coast has experienced significant sales volume growth.
Lattimer said his vision for his new position is, "to be the unchallenged leader in the industry, with an elite, efficient sales force, while at the same time recognized as an outstanding industry partner."