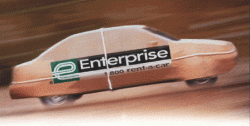 Filling car dealership lots with quality used vehicles just got a whole lot easier.
Enterprise Holdings is streamlining its fleet sales with the launch of its Vehicle Sales Mobile technology – a new app that gives Enterprise's more than 400 local account reps a virtual showroom where dealer customers can easily and efficiently shop for and purchase vehicles.
The real-time vehicle search tool provides Enterprise's local account reps and dealers with immediate access to up-to-date inventory, pricing, mileage and photos.
VSM links directly to Enterprise's vehicle inventory through a single digital interface.
The app also streamlines the sales process; when customers are ready to buy, VSM technology enables them to do so on the spot.
"Vehicle Sales Mobile technology allows our local sales team to bring an efficient sales experience direct to our dealership partners," said Nate Lattimer, vice president, remarketing, Enterprise Holdings, which owns and operates the Enterprise Rent-A-Car, Alamo Rent A Car and National Car Rental brands.
"It's a great blend of the latest mobile technology with our unmatched local sales team and friendly, personal touch, and it's what our dealer partners have come to expect."
During the app development process, Enterprise gathered data from both its sales team and its dealer customers to determine what information and features would add up to the most effective mobile solution.
After a successful pilot program conducted earlier this year, the solution was rolled out to its local sales and account representatives across North America, who are now using VSM technology in their personal meetings with dealers.