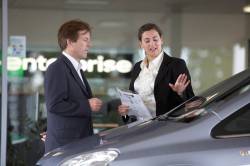 Enterprise Rent-A-Car today began operating from Waterloo station as part of its strategy to provide greater access to car hire at London's main rail transport hubs.
The new service at Waterloo will meet growing demand for car hire from passengers at Britain's busiest train station.
The company is also scheduled to open a branch at St Pancras in mid-August to cater for the millions of international travellers who arrive in the capital every year via Eurostar.
Enterprise, which has growing network of more than 370 locations in the UK, already operates a branch at the Eurostar station in Paris, Gare du Nord.
In September, Enterprise plans to open branches at two more of London's main train stations, Euston and Paddington.
The new branches are being opened in response to increased demand from passengers who want the convenience of daily car rental for their onward journeys.
The new locations will provide London businesses and residents with access to Enterprise's unique pick-up service, discounted weekend rates, one-way rentals and people carrier hire.
Khaled Shahbo, Enterprise Rent-A-Car general manager for the London region, commented: "Millions of passengers travel through these stations every day and, for many, car rental will be their choice for onward travel.
"With these new branches, we're able to offer Londoners and those travelling through the capital an easy and efficient means to continue their journey.
"We operate the largest branch network in the UK, so we anticipate that lots of people will take advantage of one-way rentals to get to their final destinations."