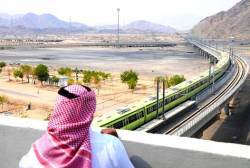 Etihad Rail – the developer and operator of the UAE's national railway network – has announced the signing of a memorandum of understanding with Emirates General Transport and Services Corporation.
The deal offers Etihad Rail the benefit of ET's integrated vehicle and maintenance services, in addition to security services along Etihad Rail sites.
Signed by Nasser Al Mansoori, chief executive, Etihad Rail, and Mohammed Abdullah Al Jarman, general manager of ET, the deal will support Etihad Rail's commitment to provide customers with a seamless experience when transporting their goods on the railway.
With both entities being part of the UAE's burgeoning transportation industry, the combination of Etihad Rail's extensive network with ET's established presence in the UAE signifies a natural alignment, where two different modes of transport will be enabled to complement one another.
As part of the agreement, ET may provide container leasing; cleaning and courier services; security services; and, the leasing, maintenance and recovery of vehicles.
Al Mansoori said: "As the developer and operator of the UAE's national railway network, Etihad Rail is collaborating with different companies across a range of industries to ensure that we provide our customers with the best transport solutions, which in turn will facilitate growth opportunities within these sectors.
"ET has a strong track record in providing numerous governments and private entities with flexible road transport options, and this agreement is in line with Etihad Rail's commitment to offer customers a modern and integrated rail network.
"We look forward to working together as the railway continues to develop."