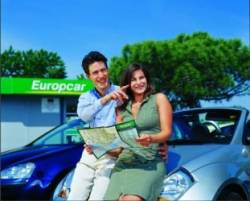 Europcar, the leader in car hire services in Europe, is offering those packing for their summer holiday some useful tips on how to ensure their car hire experience is stress-free. Then all they have to worry about is topping up their tan.
Once flights, hotels and transport to the airport have been arranged, many could be forgiven for thinking that the hardest part of arranging a holiday has been sorted. However travelling around a holiday destination once you've arrived is a commonly neglected factor, with most leaving this decision to the last minute, which could mean paying more and getting stressed at a time when relaxation is key.
"It's easy to leave holiday car hire to the last minute, but any rash decision could affect the overall quality of a trip" says Ken McCall, Managing Director, Europcar UK Group. "We've all been there – arriving in a strange country after a long flight, you're faced with having to tackle unfamiliar roads – the last thing any of us would want to face in the wrong type of vehicle.
"While it may seem obvious to book the correct vehicle for the type of driving you are doing, many only realise their vehicle is unsuitable when they arrive at their destination. A tightly-packed car does not make for happy passengers and can be a recipe for disaster on a holiday. And driving abroad can catch out even the most experienced of travellers unawares.
"That's why we're offering tips to help leave the tension at home and potentially save money. We also strongly advise booking in advance – for the best deals and to ensure you get the car you need and want. If the right type of vehicle has been booked in advance, driving on unfamiliar roads will be less daunting."