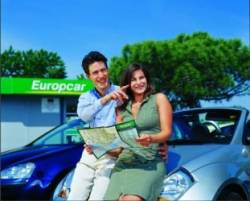 Europcar, the leader in car hire services in Europe, is making car hire more accessible than ever for customers travelling in and around the East Midlands, with the opening of a new location in Derby. The new Europcar Derby branch offers local business and leisure customers, the ultimate in convenient and flexible access to car and van hire.
The new Derby station joins the extensive Europcar network already in place across the East Midlands. Travellers in the region have access to a range of vehicles and vans and customers can collect and drop off vehicles from 8am to 6pm Monday to Friday and Saturday from 8am to 1pm.
"Derby is a bustling cosmopolitan city with a great heritage", explained Ken McCall, Managing Director, Europcar UK. "With a range of attractions within easy reach from Derby such as the National Forest, Alton Towers and the Peak District, Europcar is bringing greater access to cars and vans for a wide variety of business and personal trips. Derby residents and visitors have the widest possible choice and flexibility to get on the road as quickly and cost-effectively as possible with the opening of this new branch."
The new Europcar location also extends the reach of the company's freeDeliver service, giving leisure customers the convenience of free delivery and collection to their home. Valid for all bookings for two days or more, it's completely free of charge within 5 miles of any of Europcar's UK locations, including the new Derby branch. Customers can have their car delivered to any residential address within an agreed one hour window, so there's no waiting around and Europcar collects the vehicle at the end of the booking – no hassle, no charge.
Europcar offers the most flexible pick-up and drop-off locations and services in the UK, utilising an outstanding fleet including vans, family and prestige vehicles. Plus, Europcar's key airport locations remain open 24/7.