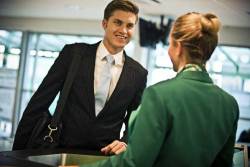 Europcar is reporting a 30 per cent increase in collection and return of vehicles at its more than 70 locations that are open on Sundays.
The company has led the market in offering seven day opening at key airport, station and City Centre locations for several years and the new data demonstrates the importance of offering access to vehicle rental at the times that suit business and leisure customers.
"We believe seven day opening should be a standard part of the offering from vehicle hire providers," said Ken McCall, managing director, Europcar UK Group.
"Europcar was the first company to extend its opening hours to encompass Saturday afternoons and Sundays several years ago and we continue to add to the 70+ locations as we analyse and respond to customer need.
"In the past, the car hire market came to a halt for the weekend after 1pm on Saturdays.
£But the huge surge we've seen in the demand for rentals on Sundays over the past year proves that a seven-day a week service gives customers the choice and flexibility they need."
Europcar offers easy access to car and van hire seven days per week at key locations across the UK including all its airports, many station branches and in city centres, enabling customers to collect and drop off vehicles every day of the week – not just during traditional office opening hours.
"As Europe's leading car hire company we aim to stay ahead of the competition" concluded Ken McCall.
"Our goal is to provide motorists with convenience, choice, simplicity and quality as standard and we are listening to their constantly evolving needs in order to be able to continually offer services to make their lives easier."
Europcar offers the most flexible pick up and drop off locations and services in the UK, utilising an outstanding fleet including vans, family and prestige vehicles.
Europcar is considered the World's Leading Car Hire by the World Travel Awards.