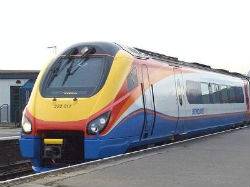 Ten years ago almost to the day, Eurostar, the high-speed passenger rail service linking the UK with mainland Europe, set the UK rail speed record at 208mph on High Speed 1 (HS1), near the Medway Viaduct in Kent at 11.35am on the 30 July 2003.
Ten school children from across Kent who were all born in 2003 will be on hand this morning at exactly 11.35am to help Eurostar celebrate the anniversary of the record, as a special commemorative plaque is unveiled near a popular walking route close to the most spectacular part of the high-speed line, the Medway Viaduct.
The children all won local press competitions to be part of the event, which will celebrate this historic moment in the UK's long history of rail achievements. Each of the children also won the chance to experience the speed and excitement of a Eurostar trip for themselves, with family Eurostar tickets to a destination of their choice.
Since services started almost two decades ago, Eurostar has changed the way people travel between the UK and continental Europe forever. Eurostar has doubled the number of visitors travelling to Paris and Brussels and now has over 80% market share on both routes. The high-speed line in the UK has also been a huge success, slashing the journey time between London and Paris from 2 hours 35 minutes to just 2 hours and 15 minutes after the final section of the high-speed line was opened in November 2007.
Steve Carter, Eurostar's Head of Performance and Planning commented; "We are immensely proud to be part of history as the train operator that holds the UK rail speed record. The Eurostar train reached an unbelievable speed of 208mph on the 30 July 2003, smashing all previous UK speed records, including the famous Mallard steam train which reached 126mph in 1938 and the APT-E Electric train which reached 162.2mph in 1979. The challenge is out there for the UK rail speed record to be beaten in the future and we wait with anticipation to see if it ever will be."
Steve Wade, Area General Manager for Network Rail comments; "Since the UK's only high-speed line carried its first commercial services on 28 September 2003 it has been a huge success. The 67 miles high-speed line has transformed the way in which Brits travel to Europe, as it is now possible to travel by train to Paris in less than two hours from Kent. The line has fully integrated into the landscape of Kent and it is now truly part of the county's history and future."