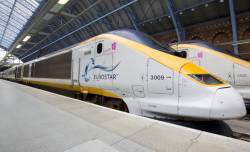 Eurostar is set for another bumper bank holiday this weekend, as over 110,000 people are expected to travel with the high-speed rail operator – a three per cent rise in passengers compared with the equivalent 2012 August bank holiday weekend.
Almost 60,000 Brits will take advantage of the long weekend to enjoy a late summer break with Paris, Disneyland Paris and Avignon proving to be the most popular Eurostar destinations.
Friday August 23rd is the busiest day for departures, and Eurostar has added extra services to Paris to meet the increase in demand.
Passengers travelling from St Pancras International this weekend will be treated to a relaxing send off with a range of free activities on offer in the departure lounge.
A magician will be on hand to entertain the kids whilst parents can enjoy a free massage and tea and biscuits.
Mary Walsh, director of communications, Eurostar said: "There's been a great holiday atmosphere in our stations all summer, and this weekend will be no exception.
"Our seasonal Avignon services have proved particularly popular again this year as the Brits love affair with Provence and the South of France continues to blossom.
"For any passengers looking for a last minute getaway, there are a handful of tickets remaining for our last direct Avignon service of the season, departing this weekend."