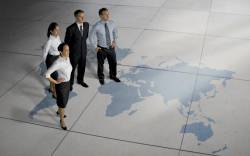 Global travel management provider FCm Travel Solutions is launching a range of consulting services to help companies develop, manage and execute high performing corporate travel programmes.
Called FCm Consulting, the global offering of services is being made available for companies looking to improve their travel performance through more effective supplier solutions and management, policy and compliance, expense management, change management, innovation and market intelligence.
Spearheading the launch is FCm's global director of multinational account management Felicity Burke.
"Companies often want advice and guidance on very specific parts of their travel programmes, this is where consultative services can really add value in a very tailored and cost effective way," Burke said.
"For firms that are partnered with multiple travel management companies or those who may be managing parts of their programme in-house, FCm Consulting services can provide insight and strategic direction for businesses looking to take the next step in programme development.
"Corporate travel management has become such a highly specialised area of the travel industry, companies these days need to be across what is considered 'best practice' or risk missing out on insider knowledge and data that can only be gleaned from travel providers with global resources and experience," she added.
"Having access to global data, market intelligence, benchmarking capabilities and global suppliers as well as people that know how to deliver meaning from these tools, gives companies the competitive advantage they need to achieve savings in the tough market conditions we now find ourselves in.
"This is how FCm Consulting adds value to travel programmes – with the right tools and the right people."
FCm Consulting draws on the TMC's global intelligence, customer insight, data and vast experience in managing best practice travel programmes to help companies achieve short and long-term gains on their business travel.
The global advisory team includes senior corporate travel, procurement and technology professionals from around FCm's network in Asia Pacific, Americas, Europe, Africa and the Middle East.
"Consulting services bring an extra layer of support and direction for clients looking to enhance areas of their programmes for more return on investment from their business travel," Burke concluded.