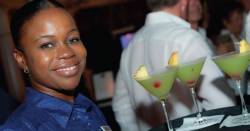 The latest cutting edge research from the Foreign & Commonwealth has revealed around half of 16-24 year olds are likely to drink more on holiday than at home.
Two thirds attributed this to alcohol being cheaper, while per pressure is also a major factor, with 40 per cent of those surveyed saying they had felt pressure from friends to drink more than they wanted to.
The FCO said Brits on holiday are therefore putting themselves at risk of serious harm such as hospitalisation, arrest or detention.
Consular staff have already been called on this summer to come to the aid of British nationals who find themselves in trouble after drinking to excess.
This is particularly the case in holiday hotspots popular with young Brits.
Gavin Cook, deputy head of consular assistance, FCO said: "Going on holiday is a great opportunity to relax and have fun with family and friends, and enjoying a drink can be part of that.
"We're not telling people to stop drinking but we do want people to be aware of the consequences of drinking to excess – and our research shows almost half of young people understand them already.
"Activities which may be legal in the UK may not be legal in another country. To avoid a night in a jail cell or even a criminal record, it's important to research local laws and customs, including on alcohol consumption, before you go.
"Drinking can impair judgement. The effect of being hospitalised or arrested overseas goes far beyond a ruined holiday and can have a devastating impact on family and friends – financially and emotionally.
"So our message is have fun in the sun, but drink responsibly so you don't put yourself at risk of harm."