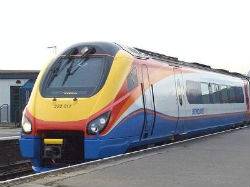 The final countdown to the completion of Nottingham's £100 million re-signalling project has now begun, with Nottingham station reopening on Monday 27 August.
This £100 million project to improve Nottingham's railway has seen the biggest transformation for the city in over a generation. Engineers have laid six miles of new track, installed 143 new signals, renewed two level crossings and replaced two level crossings with footbridges. There is also now a newly-installed platform and canopy at Nottingham which will help to ensure more flexibility around the station and more reliable train services.
The re-signalling work is due to be completed by Network Rail in the early hours of the morning on Monday 26 August. East Midlands Trains is therefore planning to operate a normal train service on the London and Skegness routes for the majority of the day on Bank Holiday Monday, with a slightly revised timetable in place on all other routes.