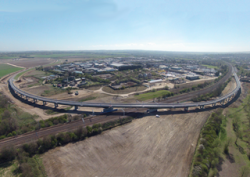 The first passenger services have started to use the new Hitchin flyover after Network Rail completed work to build the new stretch of track, which will make the railway more reliable, reduce delays and provide extra capacity in future.
Until now, First Capital Connect trains travelling from London King's Cross have had to cross three other lines to switch between the East Coast Main Line and the line to Cambridge. This makes the railway less reliable when delays occur and limits capacity on one of the busiest lines in the country.
The new rail link will avoid these problems completely, cutting delays to train services by nearly 30,000 minutes every year and helping create the capacity to run more services when future timetables are developed.
First Capital Connect will run up to three services a day over the flyover, but by December – when they will have trained around 300 drivers on the new route – almost 600 trains a week will use the 2km single-track rail link.
Network Rail route managing director, Phil Verster, said: "The Hitchin flyover will make a real difference to passengers who travel on the East Coast Main Line, as well as people travelling to Cambridge and beyond. Improving the railway at Hitchin will solve the problems caused by the current track layout and help meet growing demand on the railway.
"The new layout means trains will run more reliably and punctually. The work we have done has cleared one of the major bottlenecks on the route and is part of our wider effort to improve performance and increase capacity on the railway."
Jackie Townsend, director of operations for First Capital Connect, said: "This flyover significantly reduces the risk of delays at one of Britain's busiest railway junctions. Passengers travelling north to Letchworth, Cambridge and King's Lynn will see fewer hold-ups as a result of this work.
"We have worked closely with Network Rail to ensure the flyover delivers real improvements for our passengers and we look forward to working with them on other ways to improve our customers' journeys in the future."
East Coast operations director Danny Williams said: "The Hitchin flyover is a very welcome and keenly anticipated improvement, which delivers a simpler track layout, extra capacity and improved reliability at this very busy location.
"In the past Hitchin has been one of the most congested locations on the southern section of the East Coast Main Line. The benefits of this project will be seen by our passengers for years to come."
See progress of the build, in time lapse: