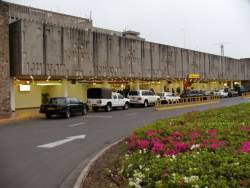 International flights have resumed at Nairobi airport using the airport's domestic terminal, following a fire which destroyed parts of the airport.
Flight KQ101 from London and KQ887 from Bangkok arrived at Jomo Kenyatta International Airport in Kenya's capital this morning, according to reports.
Planes from Bangkok and Kilimanjaro also landed on Thursday.
The Nairobi airport is a regional hub serving over 16,000 passengers daily and its closure resulted in widespread disruption.
President Uhuru Kenyatta issued a statement for those passengers whose journeys were impacted by the fire: "Contingency measures have been put in place to stabilise the situation and to return the airport to normal operations," he said.
"We are concerned that the incident interrupted travellers schedules and appreciate that they are being routed to their destinations as soon as is possible."
The cause of the fire is not yet known. No serious injuries have been reported, according to airport authorities.