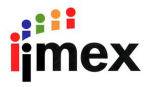 An exit survey of just under 900 hosted buyers who attended IMEX in Frankfurt in May reveals that the show continues to attract a committed business audience. Overall, results and anecdotal feedback suggest that IMEX hosted buyers are strongly motivated to maximise use of the show's online appointment system to meet their business goals with over 53,000 appointments scheduled before the start of the show. In addition, buyers are attracted by the show's diverse and topical professional education programme, multiple networking opportunities and social events.
Over 50% of the hosted buyers attending had budgets in excess of US $500,000 annually, with almost 17% holding budgets of US $5 million and above. When asked "how important is it for you and your business that you visit IMEX?" 99% rated the award-winning trade show between 'important' and 'very important', with 93% confirming they were 'very' or 'completely' satisfied with their experience. On the back of this positive reaction, 87% also declared themselves 'likely to go to IMEX 2014'.
Hosted buyers spent an average of 15 hours on the show floor and met with an average of 28 exhibiting companies; whilst a highly-energised 6.5% met 40 to 60 exhibitors over the three days. Jennifer Ayres, Event Manager at Centaur Communications summed up her experience: "My visit to IMEX has been really worthwhile. I focus on long haul destinations and have been able to speak to key people from Asia, Sydney and Australia without racking up the air miles! Thanks to IMEX, I've secured business across three venues, which amounts to around 100,000 Euros altogether."
Of the new and added-value elements at IMEX this year, App Playtime was enjoyed by 30% of survey respondents and IMEXLive, the new online window onto the show, by 25%. IMEX's BadgeBack programme – where every recycled badge generates a donation to the show's two local CSR projects – gained more traction and was remarked upon by 53% of buyers.
Commenting on the results, Carina Bauer, IMEX Group CEO, stated: "It's always fascinating to read the feedback, which we conduct among our main stakeholders – hosted buyers, intermediaries, visitors and exhibitors. We pay special attention to those areas where we need to improve or change our approach, and we also benefit from industry professionals sharing new ideas and suggestions for adding more value.
"As always, success depends on consistently delivering the right business results. But IMEX also acts as a platform for high-level networking and professional education which combine to create a unique business experience. Getting the balance right between those three elements is fundamental. It's right that the format of the show continues to evolve but we're also clear that enabling more business between buyers and exhibitors is our top priority."
The IMEX Group has also announced confirmed dates for the show at Messe Frankfurt beyond 2014:-
2015: 19 – 21 May
2016: 19 – 21 April
2017: 16 – 18 May
2018: 15 – 17 May