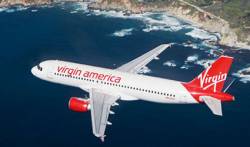 Nearly five years to the date after revolutionizing air travel with the launch of its in-flight Internet service, Gogo, the world leader of in-flight connectivity and wireless in-flight digital entertainment solutions, is once again set to revolutionise the service with the announcement of its next generation technology. David Cush, President and CEO of Virgin America, will join Gogo's CEO, Michael Small, for a live Webcast from the Airline Passenger Experience Expo in Anaheim, Calif. to announce the new technology. Virgin America was the first U.S. airline to offer Gogo on all of its flights and was the launch customer for Gogo's ATG-4 service.
Webcast Details
To attend the Webcast and add it to your calendar, register at gogo.to/register.
The Webcast will be streamed from Gogo's blog. The link will be emailed to you upon completing registration.
The event will take place at 2:30 p.m. ET on Sept. 11
Gogo CEO, Michael Small; Virgin America President and CEO, David Cush; and Gogo's CTO, Anand Chari, will be making the announcement and available for questions after the event.