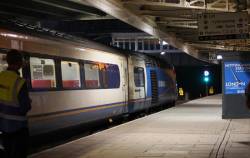 After five weeks of around-the-clock effort, six miles of new track, 143 new signals, a new platform, the work of 2,000 people and over 30,000 bus movements, a full train service has begun again at Nottingham station.
Network Rail's £100 million investment in the railway through the city has seen its 1960s-era signalling and track pulled up and replaced with modern equivalents to a new, more efficient and flexible design.
This will improve the reliability of the train service in the East Midlands and complement the work going on to improve the station.
A revised bank holiday train service started again from at 05:31 on Monday morning and today marks the start of the first full working day timetable for the new systems and infrastructure.
Network Rail's area director for the East Midlands, Justin Page, said: "We really appreciate the patience of the people of the East Midlands over the past five weeks – they have been fantastic during the disruption and it's great to see trains running through Nottingham station again.
"We've built a new layout with a modern signalling system that represents a leap forward for the railway and will improve people's journeys.
"The next big step for us will be the completion of work on the Hub and the refurbishment of the station, which will be the culmination of £150 million of rail investment in the city."
The new track and signalling layout at Nottingham allows for greater flexibility, uncorking the bottleneck on the approach to the station which has for many years resulted in trains at a stand waiting for platforms to become available.
With the number of trains and passengers using Nottingham station predicted to grow, this flexibility will enable Network Rail and East Midlands Trains to run a more reliable service.