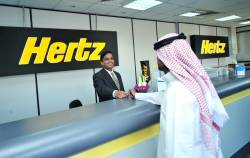 The Hertz Corporation, the world's leading general use car rental brand, has today announced the appointment of new General Sales Agents (GSA) in Jordan and Lebanon to grow its outbound car rentals from the two Levant countries to more than 8,800 Hertz locations in 150 countries.
The partnerships see the world's largest general-use car rental brand tie up with Eastern Travel & Tours in Jordan and Nakhal in Lebanon, and will provide a new level of service and support for the countries' travel trade professionals when making car rental bookings globally for their customers.
They will also provide a significant boost to the upward curve of Hertz outbound car rentals in recent years from Lebanon and Jordan to popular European and US destinations.
In 2012, Hertz outbound transactions from Lebanon grew by 20% year-on-year, with France, UAE, Italy, USA and Greece among the top five countries of choice for its Lebanese customers, accounting for 79% of total outbound transactions for the company.
For the same year, the USA was the second most popular travel destination for Hertz customers in Jordan, sitting just behind the UAE and followed by France, Italy, Spain, Greece, the UK, and Switzerland.
Michel Taride, Group President of Hertz International commented: "Hertz is excited to be aligned with Eastern Travel & Tours and Nakhal, whose combined presence and knowledge of the Jordanian and Lebanese travel markets make them ideal partners to grow our outbound car rentals from the two countries to key overseas destinations.
"Hertz is one of the most well-known brands globally and is instantly recognisable by millions of people, helping customers around the world for more than 90 years. These partnerships build upon the long-standing history Hertz has enjoyed in Jordan and Lebanon, and we look forward to continuing to provide our customers in these countries superior service and value with our innovative products and services."
Amani Qassim, General Manager of Eastern Travel & Tours, added: "As one of Jordan's most trusted travel operators, our aim is to continue to broaden the range of services that we offer for outbound travel and tourism. Eastern Travel & Tours has an independent multi-lingual sales team operating as a dedicated resource to represent the Hertz brand and we are excited to build on its presence among our trade and corporate client portfolio."
Elie Nakhal, General Manager of Nakhal in Lebanon concluded: "Nakhal is one of Lebanon's oldest and most specialised agencies, with more than 50 years experience in the travel and tourism industry.
"With our extensive global retail network and 125 experienced staff members, we are perfectly poised to significantly increase Hertz product awareness among the travel trade and grow outbound sales."
The principal benefits of the new GSA appointments to travel trade professionals in the Levant will be the instant accessibility to the global portfolio of Hertz outbound products.
Hertz offers a wide range of makes and types in a global fleet of more than 500,000 vehicles, while in USA, the newly launched Hertz Dream Cars collection means customers can enjoy the thrill of driving the likes of an Aston Martin V8 Vantage, a Bentley Continental GT, a Lamborghini Gallardo, or an SRT Viper among more than a dozen other premier names.
Other popular choices include the Hertz Collections range of cars in certain locations in Europe, USA and Australia. These include the Prestige, Green, Fun, Adrenalin, and Family collections, in which customers are guaranteed the make and model of the car they choose upon making a reservation.