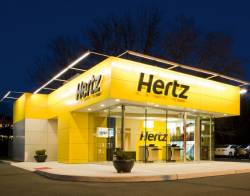 The Hertz Corporation, the world's leading general use car rental brand, has announced Carfirmation, a free email service to customers to confirm the exact rental vehicle they will receive prior to collection. In addition, customers travelling to Hertz Gold branches with counter-bypass facilities will also receive the specific parking bay location for their vehicle so that they can head straight to their car and go. The Carfirmation service is available to Hertz Gold Plus Rewards members worldwide picking up a vehicle at major branches in the USA, UK, France, Germany, Spain, Italy and Benelux.
Michel Taride, Group President, Hertz International, said: "The latest addition to Hertz Gold Plus Rewards, the Carfirmation service confirms a Gold customer's reserved vehicle and for many Gold branches, advises them of their car location so they can skip the counter. As with all of our member benefits – including loyalty points and preferential rates – Carfirmation has been introduced to maintain the highest class in customer service, tailored on direct feedback from a customer panel of over 650 people."
The service comes as an expansion of a similar programme available in the US, where it has been highly praised by Hertz both business and leisure travellers alike. The alert is generated as soon as a vehicle is assigned to the reservation. Details included within the email are: vehicle model, colour and registration number, reservation number and details of optional extras such as Hertz NeverLost™ satellite navigation. At Hertz Gold locations, which operate a counter-bypass option to members, customers can head straight to their vehicle at the specified parking bay confirmed through the email.