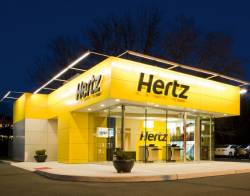 The Hertz Corporation has launched its mobile Wi-Fi hotspot service at 24 Hertz locations in Germany and expanded the offering to additional branches across Spain and Italy. Bookable in advance, the portable service provides customers with fast, reliable and fixed-cost internet connection on the move with no roaming charges.
Michel Taride, Group President, Hertz International, said: "The mobile Wi-Fi hotspot service provides our customers and their passengers the freedom to connect to the Internet from anywhere within the country they are traveling in – such as hotel, cafe or car. The innovative service is yet another way for Hertz to ensure that customers enjoy a high value vehicle rental experience."
Five to eight devices such as laptops, tablets, smartphones and games consoles can be connected to Hertz mobile Wi-Fi hotspot service simultaneously, depending on the destination. Customers will enjoy unlimited data (3GB in Spain) and a surfing speed of up to 21Mbps. For an average price of just 10 euros (US$ 13) per day, the portable Wi-Fi units can also help customers avoid internet access fees that may apply in their hotels or other areas. In addition, the units can be recharged by USB or chargers provided by Hertz.
For business travellers, the pocket-sized mobile Wi-Fi hotspot device enables email connections and ongoing contact with the office, customers or family at home. The service also makes it easy for leisure travelers to stay in touch with friends and family, providing the ability to upload photos or videos or to converse via Skype or similar, while also allowing multiple users to connect at the same time.
The locations where the Hertz mobile Wi-Fi hotspot service can be obtained from include :
Germany airports – Berlin Schonefeld, Berlin Tegel, Cologne, Dresden, Dusseldorf, Frankfurt Hahn, Hamburg, Hannover, Leipzig, Memmingen, Munich, Nuremberg, Stuttgart, and Weeze
Germany downtown – Berlin, Cologne, Dusseldorf, Frankfurt, Hamburg, Munich, and Stuttgart
Italy airports – Alghero, Bari, Bergamo, Cagliari, Catania, Florence, Milan Linate, Milan Malpensa, Naples, Olbia, Palermo, Pisa, Rome Ciampino, Rome Fiumicino,Turin, Venice and Verona.
Spain airports – Alicante, Barcelona, Bilbao, Gerona, Madrid, Malaga Airport, San Sebastian, Santander, Seville, and Valencia.
Spain downtown – Barcelona Railway Station, Madrid Delicias, Malaga Railway Station, and Seville Railway Station
Hertz also offers a Mobile Wi-Fi service in Australia, New Zealand and the Canary Islands. Service features may vary depending on the country.