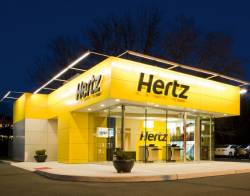 The Hertz Corporation, the world's largest general use car rental brand, announced that Hertz UK Limited continues to expand its UK network following the recent acquisition of CCL Vehicle Rentals Ltd (CCL), a leading national accident management provider, headquartered in Dorset, UK.
Michel Taride, Group President of Hertz International, said: "We are fully committed to developing new and expanded partnerships in the car and van Insurance Replacement Market in the UK, offering customers pickup and delivery services, as well as growing leisure and business rentals. The expansion of our network in the country reinforces our commitment to the Insurance Replacement Market and local customers now and in the future."
Neil Cunningham, General Manager, UK & Europe Off Airport at Hertz UK Limited, added: "Hertz and CCL are a powerful combination to meet the needs of insurers and the wider market. By bringing our locations closer to the customer we hope to support greater choice and bring our comprehensive range of products and exceptional service to the industry and consumer alike."
Hertz has opened 17 locations in the UK since January 2013, including Ashford, Barnstaple, Basildon, Bedford, Bolton, Bow, Bracknell, Catterick, Chatham, Colwyn Bay, Gravesend, Hastings, Islington, Newbury, Thetford, Walkden (Manchester), and Wembley. Hertz has plans to continue this rapid expansion throughout the country, with ten more locations to open in the next two months, mainly across Northern areas and the Midlands.
The new branches provide both Hertz and CCL customers with a full range of rental vehicles including compact through to full-size cars and SUVs and commercial vehicles, as well as offering special weekend rates for local leisure business. In addition, Hertz is opening major hub locations for its CCL business, as well as co-locating with body shops, hotels and repair facilities to serve the needs of local customers.
CCL Accident Support is a leading national provider in the UK, with extensive experience in accident management services to the authorised hire and credit hire market. The company posted a turnover in excess of £21 million in 2012. Having built a reputation for exceptional customer service the company now employs approximately 200 people across six UK locations. CCL continues to utilise its bespoke and innovative technological solutions, supported by the growing network of Hertz locations and wide range of quality vans and cars.