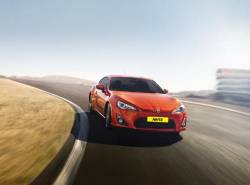 Car rental brand Hertz is extending its Adrenaline Collection to Australia with the Toyota 86. Following the success of the Adrenaline Collection in the United States, Hertz is initially introducing 30 Toyota 86 vehicles to its airport and city locations in Sydney, Melbourne and Brisbane.
"We're thrilled to extend the Adrenaline Collection into Australia, particularly as it has been so well received in the United States," said Michel Taride, Group President, Hertz International.
"These brand-new, high performance sports cars offer our customers the opportunity to rent vehicles that turn heads wherever they go, and add a heightened level of exhilaration to every trip." Taride added.
Chris Rusden, Vice President, Hertz Australia and New Zealand, added: "We're confident this collection will inject a new sense of excitement into our fleet. The 86 is the latest model in a long line of fantastic sports cars from Toyota and is the perfect vehicle to rev-up the introduction of Hertz's Adrenaline Collection in Australia."
The Toyota 86 features intuitive handling, combining "boxer" engine technology with Toyota's D-4S direct injection technology.
All Adrenaline Collection cars come with the Hertz Make and Model Guarantee ensuring customers drive away the exact car they booked.