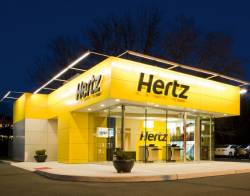 The Hertz Corporation, the world's leading general use car rental brand, now offers the Jaguar F-TYPE, the award winning, two-seat convertible, for rental in Belgium, France, Germany, Italy, and The Netherlands, with rights to exclusivity in Europe for six months. The Jaguar F-TYPE sports car ushers in the launch of Hertz Europe's new Dream Collection, group of iconic and breathtaking cars backed by the Make and Model guarantee that ensures customers drive away the exact car they booked.
Michel Taride, Group President of Hertz International, said: "We are very proud to welcome the Jaguar F-TYPE in Europe as the launch car of our new Dream Collection for Europe, a line of high end vehicles providing a premium car rental experience. This addition enhances our partnership with Jaguar Land Rover, a leading car manufacturer that has yet again reinvented the sport cars segment with its F-TYPE. Now our customers can live the dream of high performance motoring and pure driving enjoyment."
Bernard Kuhnt, Regional Director, Jaguar Land Rover Europe said: "We are very pleased to present the all new F-TYPE through our strong partnership with Hertz. We are confident that Hertz customers will enjoy our thoroughbred sports car designed for ultimate performance and driver involvement."
The all-new Jaguar F-TYPE is the first full-blooded Jaguar sports car to be launched for more than 50 years. The front-engined, rear wheel drive convertible has been meticulously conceived for high performance and responsive handling. Taking inspiration from cockpits of fighter airplanes, the controls are ergonomically grouped by function. Further aeronautical inspiration can be found in the joystick-shaped SportShift selector controlling the eight-speed transmission.
The Jaguar F-TYPE will be available for hire from:
* Belgium – Brussels Airport
* France – Riviera locations: Nice Airport, Nice downtown, Monaco, Saint-Tropez, Cannes as well as in Paris downtown and airport locations Charles de Gaulle and Paris Orly Airports
* Germany – Frankfurt and Munich Airports
* Italy – Milan Malpensa, Rome Fiumicino, and Olbia Airports
* Netherlands – Amsterdam Schiphol Airport
Rates for the Jaguar F-TYPE rentals start from 250 euros per day depending on the location, and all confirmed reservations are guaranteed. European customers can book online from their Hertz country website. Customers from outside of Europe can make their reservations by contacting the Hertz call center of their country. The minimum driving age for the Jaguar F-TYPE is 30 years old in France and Italy, 27 years in Germany, and 25 years in Belgium and The Netherlands. Customers need to show two credit cards to rent the F-TYPE in any of the countries.