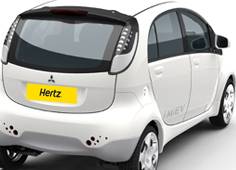 The Hertz Corporation has transitioned its car rental fleet to non-smoking as part of the Company's commitment to provide the cleanest fleet in the car rental industry.
"Hertz is committed to providing customers with the best cars and best fleet in the industry," commented Mark P. Frissora. "While most of our cars were already non-smoking, the vast majority of customers, as well as Hertz employees who transport cars, now indicate that they prefer to drive a smoke-free vehicle every rental.
"For that reason, the time is right to transition our fleet to non-smoking. Incorporating customer and employee feedback is a critical step to ensure we provide the most valued car rental experiences. By moving to a non-smoking fleet, car rental customers, car sales buyers and employees will be even more assured that Hertz vehicles are clean and safe." Frissora added.
Previously, the vast majority of Hertz's fleet was classified as non-smoking. With the entire fleet converting to the new policy, implemented based on strong customer preferences for non-smoking vehicles, all cars have been classified non-smoking.
The company has adopted a $100 cleaning fee assessed for vehicles returned with evidence of smoking. To make customers aware of the new policy, Hertz locations display non-smoking signs and non-smoking stickers have been installed on each car in Hertz's fleet. Should a customer inquire at the time of reservation, they will be advised of the new policy.