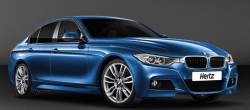 Hertz Corporation has introduced the latest model BMW 3 Series sedan (320i) to the New Zealand fleet as part of the company's ongoing commitment to provide innovative car hire options.
The move also marks the extension of the Hertz Prestige Collection range of high end, luxury vehicles to New Zealand.
Michel Taride, group president, Hertz International, said: "We are pleased to now offer customers the chance to drive the BMW 3 Series sedan, most fuel efficient and best performing model in its competitive class.
"The extension of the Prestige Collection into New Zealand builds on our huge success of this range of sophisticated, luxurious vehicles in the US and Europe."
Having won many international awards, the prestigious 320i from the renowned German manufacturer sets new benchmarks in terms of sporting prowess, elegance and comfort.
As well as featuring innovative technologies from BMW's 'EfficientDynamics' stable, which reduce fuel consumption and boost performance, the 320i has an award-winning fuel efficient engine, brake energy regeneration and Stop/Start technology.
The high performing 320i sedan will be initially available at two key Auckland locations, the airport and Victoria Street Downtown.
The Prestige Collection forms part of Hertz's global collections of speciality vehicles.
All cars in the Hertz Fun, Green, Adrenaline and Prestige Collections come with the Hertz Make and Model Guarantee, so renters know that the car that they book is the exact one they will drive away in.