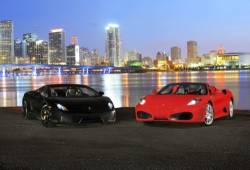 Hertz has announced the launch of Hertz Dream Cars, a line of ultra-high-end performance vehicles that redefine the premium car rental experience.
The new fleet and broad range of markets offer greater access to high performance luxury vehicles than ever before, while the VIP rental experience delivers white glove, personalised service to every renter.
"The launch of Hertz Dream Cars gives consumers the opportunity to experience luxury travel at its finest," commented Mark Frissora, Hertz chairman.
"The experience starts with a choice at select rental locations of some of the finest vehicles built on the planet.
"Additionally, the Dream Cars experience extends from special reservation channels to being greeted by a Hertz representative at the airport terminal, to a rental vehicle in pristine condition.
"We ensure the travel experience with a Hertz Dream Car will be unforgettable."
The Hertz Dream Car VIP rental experience begins with the personalised reservation service available on a dedicated microsite.
Hertz will either personally meet customers at their airport terminal and give them a one-on-one orientation to the car, or deliver the car directly to the customer.
Hertz is offering Dream Cars in 35 markets, including Los Angeles, Miami, and Las Vegas – expanding the availability for consumers around the country to enjoy a once-in-a-lifetime luxury travel experience.