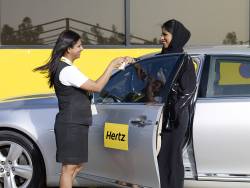 The Hertz Corporation has unveiled Hertz 24/7, a new service allowing Middle East travellers to hire a car any time, day or night, during their summer vacations in the USA and Europe.
Hertz customers from the Middle East will now be able to hire a wide variety of vehicles when needed, 24 hours a day, 7 days a week, and for any length of time – hourly, daily, weekly or monthly – from any of 1,800 neighborhood and airport locations in the USA, France, Germany, UK, Spain and Australia.
After registering for the service, customers will receive their own personal Hertz 'keyfob' which they can then load with credit. The Hertz 24/7 customer experience is powered by the fast and easy Hertz "Click. Swipe. Go!" process.
Customers click on www.hertz247.com or www.hertz.com from a mobile device or laptop and complete the 24/7 reservation process, walk to their reserved car only minutes away where they swipe the 24/7 key fob against the reader on the windshield to unlock the doors. Then Go!, after retrieving the keys tethered to the dashboard.
"Driven by the company's award-winning technology, Hertz is reinventing the car rental industry by putting the rental process in the hands of consumers," commented Hertz Chairman and Chief Executive Officer, Mark P. Frissora. "Technology-enhanced vehicles will be available close to where customers live or work, making it easier than ever to reserve and quickly pick-up a rental vehicle at the customer's convenience.
Elyes Mrad, Vice President of Sales and Marketing for Hertz International, added: "Hertz 24/7 is a game changer for the car rental industry, because for the first time customers can rent a wide variety of vehicles at their own convenience for any length of time on a pay-as-you-go basis, whether hourly, daily, weekly or, monthly."
"The service will be especially popular not only among Middle East travellers on their summer vacations to US and European destinations, but also to the thousands of expats that return home for several weeks and who need an easy and convenient car rental option."
The Hertz 24/7 service will be extended to more than 2,000 locations by year end and currently has a fleet of 35,000 vehicles (cars, mini-vans, vans and SUVs) equipped for 24/7 rentals. The company will be prepared to have approximately 500,000 Hertz 24/7-enabled vehicles in service globally by 2016. At that point, Hertz 24/7's fleet would be more than ten times the size of the current car sharing industry combined.
With Hertz 24/7, the company is creating a new "self-serve" mobility solution with no membership fees, allowing customers to talk directly to and get help from a Hertz service representative from the car, as needed. Additionally, customers can pick up a vehicle at one location and drop-off at another.