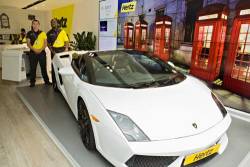 In a continued effort to streamline the rental experience and improve the way consumers rent cars, The Hertz Corporation is re-designing, updating and unveiling its locations worldwide. The transformed locations are a complete rethinking of what a car rental location and experience should be as the Company unveils "Road Trip by Hertz" retail stations located on-site that allows travelers to access everything they would need for business or leisurely travel. Travelers now enjoy concierge style service inside Hertz's facilities with a streamlined rental experience that eliminates the need to wait in line, have access to an an iPad station for researching local area information and to recharge their mobile devices, and can make use of printing and FedEx services on-site which add value to the experience, making it faster and easier. Hertz has started unveiling modernised locations around the globe, which to-date include its rental facilities at San Diego and Shanghai Airports, its Marble Arch location in central London and its Melboune, Australia headquarters, with more transformations planned for additional airports and neighborhood locations throughout the year.
"Hertz's goal is to provide the lifestyle experience traveler's desire when on the road," commented Hertz Chairman and Chief Executive Officer, Mark P. Frissora. "We are consistently listening to our customers and implementing solutions to meet and exceed their needs. In addition to offering the best fleet on the road, we are also planning to expand this new customer experience format to all of our global locations by 2015. Since we unveiled the first redesigned locations, customer feedback has been overwhelmingly positive."
The facility makeovers take into consideration the common road trip staples, tools and services typically desired by travelers, and offer the following to help enhance the travel experience:
Bus Tracking: Working with its leasing company, Donlen, Hertz is piloting new telematics for its busses. With smarter tracking, customers will have access to an app that enables them to see how many minutes until a Hertz bus will be at the terminal for pick up. The system helps bus drivers identify where customers need to be picked up creating a more efficient bussing system and decreasing the amount of fuel used.
On-Site Retail: Forget something? Customers can visit the on-site "Road Trip by Hertz" retail stations to stock up on food and drinks, and purchase essential road trip and travel supplies—everything from maps and sunscreen to charging cords and beach bags. The updated facilities also carry luggage, clothing and accessories to make their experience a one-stop-shop for both families and the business traveler.
On-Site Technology Tools: After a long flight, in addition to recharging themselves with a drink or snack, customers can also take a break and recharge their electronic equipment. Additionally, they can interact independently with an iPad station set up to access the latest travel apps, entertain kids with games, and book a Hertz reservation, among other things.
On-Site Business Tools: Customers can print on-site and access FedEx directly inside the store to send important documents and packages.
Increased Visibility for Rental Options: New vehicle displays showcase Hertz's unique and exciting rentals – such as the Hertz Penske GT in the U.S. – that have been added to raise visibility of the company's expanding fleet options among customers, a further connect with car lovers.
Sustainability Leadership: The facility transformations also adhere to the company's commitment to global sustainability best practices.
Specific sustainable construction and design highlights include LEED certification at select sites, the use of LED and energy efficient lighting, solar power systems and solar outdoor lighting at select sites, post-consumer recycled content materials and finishes, water saving fixtures and zero-VOC paints. In conjunction with renovation projects, Hertz is rolling out a national single-stream recycling program in addition to current recycling efforts around automotive waste oils and tires. Other Hertz Living Journey sustainability program outcomes include production of 2.5M kWh of solar energy annually and sustainable mobility solutions. More than 75% of the company's fleet averages 28+ MPGs and the Green Traveller Collection offers a variety of alternate fuel vehicles, including Electric Vehicles, Clean Diesels, Compressed Natural Gas vehicles and hybrids.