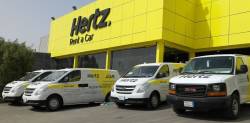 Hertz Saudi Arabia has opened a new state of the art, 4,000 square metre workshop to service the growing number of corporate lease vehicles rented within the Kingdom.
The new workshop, located in the Northern Quarter of Jeddah, the commercial capital of Saudi Arabia, has employed a team of 25 technicians with expertise in cars and refrigerated trucks.
It is also a base for a brand new fleet of Hertz repair vans commissioned to better service the most remote locations of the Kingdom, a move which has been seen as progressive and adaptive to the unique requirements of a country as expansive as Saudi Arabia.
The 24/7 service, provided by trained specialists including three Saudi nationals, provides customers with oil and essential fluid servicing, fault-finding capabilities through diagnostics technology, and can change tyres on vehicles as large as a five-tonne truck.
The eight-strong fleet of vehicles, which includes new Hyundai H1 vans and GMC Savannahs, is based at other suitable locations across Saudi in addition to the new Hertz workshop, which is the fifth of its kind in the Kingdom.
The facility can service 20 vehicles per day and will now cater to the entire Western region of the country.
Corporate lease customers in Jeddah will be able to take advantage of paint booth and body shop facilities for 30 vehicles and routine servicing options for their leased vehicles.
Additionally, the workshop has specialist facilities for the maintenance of refrigerated trucks which make up a significant proportion of the Hertz Saudi Arabia Lease fleet.
Gordon Atkinson, general manager, Hertz Saudi Arabia, commented: "We have seen a steady increase in the number of vehicles rented on a corporate lease basis with the full Hertz maintenance package and the teams in our five existing workshops in Jeddah, Riyadh, Damman, Khamis, Mushait and Buraidah were working incredibly hard to service all our vehicles.
"The time was right to open a bigger and better facility in Jeddah so as to keep up with demand and provide the best possible service to our customers.
"We have been listening to what our customers need from their corporate lease agreements and feedback indicated that for many, driving to one of the main cities in Saudi Arabia was not feasible.
"The fleet of mobile repair vans was a concept we created, and is one which we don't think exists anywhere else in the region.
"The vans can carry out the majority of routine servicing requirements which saves our customers valuable time and resources."