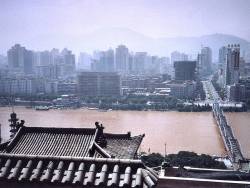 Hilton Worldwide has announced the signing of a management agreement with Lanzhou Friendship Hotel to build a hotel consisting of approximately 389 guest rooms in Lanzhou, the capital of Gansu province.
Scheduled to open in the first quarter of 2017, the 389-room Hilton Lanzhou will reside in the city's central commercial district and provides Hilton Worldwide with greater access to China's rapidly developing northwest China.
Francis Lee Wee-Hau, senior vice president of development, Greater China & Mongolia, Hilton Worldwide said: "The introduction of our flagship Hilton property to Gansu province marks a chapter in our commitment to providing guests with greater access to China's northern and western markets.
"Lanzhou is an established regional transportation hub, a growing industrial and commercial centre, and has become a vibrant tourism destination, making the city an ideal setting for our entry into the region.
"As the first Hilton Worldwide hotel in Lanzhou and Gansu, we are confident Hilton Lanzhou will bring considerable awareness to Hilton Worldwide's many offerings and showcase our strengths in helping the region's future development."
Situated in the city's central business district on East Xijin Road in Qilihe District, Hilton Lanzhou will be the first international hotel brand in the city.
Hilton Lanzhou is strategically located to provide guests with easy access to the city's railway, air and road transport hubs, the Lanzhou State High-Tech Development Zone, and the wealth of cultural landmarks and natural beauty the former Silk Road stop has to offer.
"Lanzhou is a rapidly growing city with booming industrial, commercial, transportation and tourism sectors, providing significant opportunities for our brand and the industry.
"It is our objective to meet the rising demand in Lanzhou's emerging premier hospitality segment with leading services and products," said Rob Palleschi, global head, Hilton Hotels & Resorts.
"We are especially excited about Hilton Lanzhou's potential in the region, which will feature an assortment of dining options, a health club, function and meeting rooms, and a ballroom offering guests an unrivalled hospitality experience.
Hilton Lanzhou's top 32 floors will provide guests with an unblocked view of the Yellow River and the surrounding landscape.
In addition to state-of-the-art guest rooms, the hotel will include three restaurants, a lobby lounge and bar, three function rooms, 16 meeting rooms, a ballroom, and a health club with a spa and indoor swimming pool.