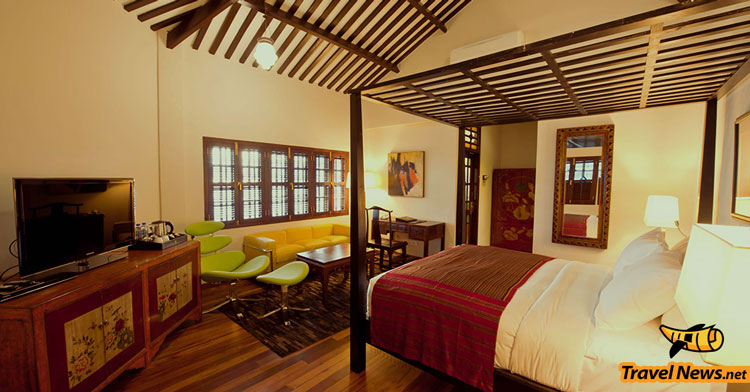 When it comes to choosing accommodations for your next vacation, it's easy to want to go 5-star for maximum relaxation.
But there are ways to get that luxury stay without having to break the bank. Some of the following hotels and resorts may even give those famous 5-stars a real run for their money when it comes to comfort, style and overall vacation satisfaction.
1. Manta Dive Gili Air Resort, Bali
The first on the list is the Manta Dive Gili Air Resort located on the Gili Islands off the coast of Bali. The small resort island has a main focus on diving but the accommodations have to be seen to be believed. It's seclusive style offers the simplistic island lifestyle with private bungalows available for as low as $70USD/night. The Sasak bungalow rivals luxury hotels with it's air conditioning, hot water, satellite TV and modern style while staying true to the Lombok rice barn look.
With the option to have breakfast served on your private terrace overlooking the beautiful scene that is Gili Air, why would anyone choose room service?
2. Hotel da Vila, Portugal
The location alone of Hotel da Vila is enough to rival a luxury hotel anywhere else. Situated in the picturesque 500 year old village of Ponta do Sol, this hotel is one to be marvelled at. From the rocky coast above the ocean to the subtropical mountains and terraces full of world famous banana and sugarcane plantations, the view from anywhere at this resort is breathtaking.
The rooms in the hotel are modernly simple accompanied by panoramic windows so that no matter where you are, you get to see what you went there for. All rooms come equipped with a sea view balcony, air conditioning, cable TV, wifi and a fully stocked mini fridge. The best part is rooms are available for as low as $100USD/night.
3. Sir Savigny, Berlin
With an aristocratic vibe, Sir Savigny, located in the Charlottenburg neighbourhood of Berlin, is a modern luxury at budget prices. All furnishing, lighting and fabrics have been custom designed to make any traveler's stay at this urban boutique hotel one for the ages.
Rooms are designed to please the eye with the Sir bedding collection and pillow menu, all the while having the modern luxuries such as free wifi, stocked mini bar, a rain shower, laundry service and breathtaking artwork. With an art nouveau appeal mixed with a classic vibrance, Sir Savigny is a top choice when vacationing in Berlin. Prices for a room can be as low as $102USD/night.
4. Hotel Chez Swann, Montreal
With no 2 rooms alike, the Hotel Chez Swann, located in the heart of Montreal's downtown, provides an artsy stay with luxury amenities. They include a beauty spa, concierge, dry cleaning and popcorn nights. The Hotel Chez Swann is beautifully unique to any other hotel with a decent price range.
Rooms are equipped with rainfall shower heads in their peek-a-boo showers, free wifi, premium bedding, and buzz worthy artwork. The hotel itself could be considered a work of art and at only $160USD/night, it's not to be missed.
5. Hotel Penanga, Malaysia
With a mix of "old world charm and new world luxe", Hotel Penanga was rebuilt from a 1920's double storey building in 2008 to house local artists but as the buzz grew, owner Hijjas Kasturi turned it into a full fledged vacation hot spot.
All the features in Hotel Penanga are unique, offering a totally original style with antique Chinese furnishings. The amenities offered at this one-of-a-kind hotel are cable television, mini bar, jacuzzi bath, a lap pool and even a library. With their full on spa experience, guests can bask in the relaxingly beautiful ambiance that is Hotel Penanga at only $63USD/night—a steal for such a luxurious experience.