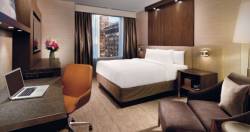 Hyatt Chicago Magnificent Mile today announced the completion of the hotel's comprehensive, $25 million renovation. The hotel's 419 guest rooms, meeting and banquet space, lobby, indoor pool and fitness center have all received a dramatic refurbishment in customer convenience, design and furnishings. As part of this transformation, the hotel introduces a new, signature restaurant, Level 2, featuring contemporary American cuisine.
Located at 633 North Saint Clair Street, the transformed Hyatt Chicago Magnificent Mile is now as stunning as it is convenient. Just one block from the Magnificent Mile and a short walk to Navy Pier, the shores of Lake Michigan and the center of Chicago's business district, the hotel is surrounded by charming neighborhood restaurants, bars and shops that are hallmarks of the area's vitality.
"The feedback we have received from our guests and meeting planners has been overwhelmingly positive. While they love the renovations, the contemporary design and state-of-the-art amenities, I am most proud of the many positive comments we have received about our hotel staff," said Doug Dean, general manager. "Our team of associates at Hyatt Chicago Magnificent Mile are the core of our success, and this magnificently transformed hotel will give them an opportunity to shine for our guests."
A Timeless, Modern and Welcoming Transformation
Chicago-based Looney & Associates led the design effort, which offers guests contemporary, welcoming public spaces, perfect for guests to gather and relax. A completely reoriented check-in area greets guests warmly while a new restaurant, lounge and casual zones, all redone with new furniture, art work, and flooring, welcomes them to linger.
The newly added Escape Bar goes beyond a traditional hotel business center and includes space for informal small meetings, intimate social gatherings, or a place to check e-mail and enjoy a good book from the hotel's library. The Escape Bar features complimentary Wi-Fi, four iMac® computers, two LCD HDTVs, and printers for boarding passes or documents.
Each of the hotel's 419 guestrooms is styled with a contemporary palette and a diverse mix of textures, evoking a sense of luxury and relaxation. All rooms include new carpeting, wall coverings, drapery, oversized desks and entertainment centers, as well as the signature Hyatt Grand Bed®. Room accessories include a stereo iPod® docking station, Hyatt Plug Panel media center, 46" and 55" flat screen Samsung televisions, HDTVs compact, in-room refrigerators and in-room safes.
Renovations to the hotel's 14 meeting rooms and Grand Ballroom include new carpeting, playful sculptural light fixtures and drapery that allow natural light to infuse the space. Meeting and event spaces are ideal for parties and business meetings, offering a total of 20,000 square feet and accommodating groups of 10 to 450 guests. State of the art technology throughout allows guests to best showcase meetings and events.
Recognising today's focus on fitness, the hotel's makeover includes a 60 percent expansion of its Stay Fit fitness center and an upgrade to the most recent Life Fitness® cardio equipment that have Wi-Fi access, individualised TV screens, and iPhone®/iPod® docking stations. Hyatt StayFit® free weights and yoga equipment are available for guest use, and the hotel's indoor pool is updated with travertine-styled porcelain tile.
Throughout the hotel, LED lighting now enhances the guest experience, while drastically reducing the property's green footprint.
"Today's traveler wants a hotel experience that is up-to-date in every way," said Jim Edgar, the hotel's director of sales & marketing. "The hotel's $25 million renovation meets those expectations in stylish, welcoming surroundings, generous social spaces and up-to-the-minute technology for keeping in touch with home and business."
Level 2
Level 2 is an exciting new eating and drinking space located the hotel's second floor. This unique gathering place creates a socializing environment, with a distinctly residential feel. Led by Executive Chef Andres Bustamante, Level 2 features contemporary American cuisine and a modern take on classic dishes using fresh, organic and locally-sourced ingredients; supporting Hyatt's global Food. Thoughtfully Sourced. Carefully Served philosophy, which promotes healthy people, a healthy plant and healthy communities. Level 2's cocktail menu is equally robust, with a passionate focus on craft beer and specialty cocktails.
Later this summer, the hotel's Starbucks store located on the lower lobby, will open and offer guests the latest coffee and tea drinks, fresh pastries and grab and go food options.