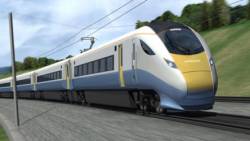 Thousands of rail passengers throughout the South West Trains network will benefit as a £1m investment in new screens is introduced.
New screens have been installed at Aldershot, Bournemouth, Eastleigh, Farnborough, Guildford, Havant, Kingston, Portsmouth & Southsea, Richmond, Southampton Central, Southampton Airport Parkway, Surbiton, Winchester, Woking and Wimbledon providing passengers with information of the next fastest train to key stations on the network in an easy to understand format.
Passengers travelling from Wimbledon, Earlsfield and platform 10 of Clapham Junction also benefit from regular up-to-the-minute information about their journey to London Waterloo following a change to the way information is presented at these stations.
Rather than advertising trains in the traditional format with scheduled and expected times, screens will provide the information in a 'countdown' style, simply showing the number of minutes until the next train, helping passengers to take an informed decision about their journeys.
South West Trains have also undertaken to roll-out further service update screens showing disruption information and service updates at a further 9 stations. In total the investment will see the installation of over 170 new information screens across the network.
These changes are being made to improve information about the service provided; to highlight the high frequency of these routes and to provide information during service disruption.
Adam Piddington, Head of Information & Customer Experience for the South West Trains – Network Rail Alliance, said: "Our experience is that passengers value real-time travel information, as the ever growing success of our Twitter information demonstrates. The new Customer Information Screens will keep our passengers up-to-date with information about when their next train in an easy to understand countdown format."
Stations to benefit from the new screens in the next few weeks are: Barnes, Putney, Wandsworth Town, New Malden, Raynes Park, Wimbledon, Earlsfield, Clapham Junction, Queenstown Road and Vauxhall.
This is the latest in a range of measures by the South West Trains – Network Rail Alliance to enhance customer communication. Other improvements include the launch of a new 'Tweet the Manager' initiative, the roll out of a new state-of-the-art PA system at Waterloo station, easy to read colour coded disruption boards and the development of an enhanced mobile version of the South West Trains' website, allowing passengers to purchase tickets and receive tailored information on their journeys while on the move.
South West Trains has recently been shortlisted in the 2013 National Rail Awards for the improvements made in providing better information to passengers under the category of 'Putting Passengers First'.