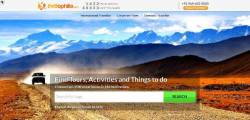 Thrillophilia (http://www.thrillophilia.com/) has launched an exciting new platform offering activities, experiences and things to do at 200+ destinations (cities and attractions) in India. Putting technology at the front, Thrillophilia intends to bridge the gap between travellers and local service providers in this rapidly growing but highly unorganised sector.
Adventure tourism industry in India has registered an increase of about 500 per cent growth over the last decade. The addressable portion in the activity space stands at $20 billion globally. This makes the activity segment the third largest segment in the travel industry, after hotel and air travel. According to studies, the global average price of an activity purchase is less than $100 and in India it is even lesser and stands at $28 but the volumes have been growing at a much faster pace.
Thrillophilia currently offers more than 400 tours and over 1400 new experiences ranging from sea kayaking in Goa to bamboo rafting experiences in Wayanad, Kerala. Furthermore, the company is also roping in local guides fluent in German, Spanish and French in order to enhance the customer experience level for foreigners during local tours. The company has a highly acclaimed outdoor team who travel across India and curate these experiences and activities.
Co-founder at Thrillophilia, Abhishek Daga said, "With the launch of this platform, we are empowering travellers with the freedom to choose the kind of experience they want at a particular destination. The trend has been changing to backpacking and self go tours. The user is not restricted to book long tours and planned itineraries but can book short experiences like one-hour elephant rides, night camping in forests, royal dinners at a palace or micro light flight tours. In India there are no portals for travellers, dedicated to booking activities and local experiences which dampens the enthusiasm of a traveller and increases their dependency on local sources when they reach the destination. We are confident our platform will help travellers make the most of their holidays. The company has lately been doing lot of investments in the technology side and this is the phase one launch. We plan to release many new features and options in the coming 6 more phases. The whole development will be done by September 2014."